By: Dallas Keefe, Senior Media Manager and Andrea Aguilar, Associate Media Manager | May 14th, 2020
As the ripple effects of COVID-19 continue to take shape, everyone around the world is trying to find a "new normal" and adapt to new standards of living and working. With the changes has come a seismic shift in the way we communicate to family, friends, co-workers and clients. As humans, we crave connection to others but have had to adjust how this connection looks. With no social gathering spots or in-person meetings, how do we stay connected? Luckily, there are apps for that! Apps and digital platforms have seen a huge increase in usage as we utilize technology to connect virtually. Likewise, brands can look to these platforms to stay connected to their consumers. As young millennials and digital connoisseurs, here are a few of our favorite ways to stay connected:
TikTok:
Who knew a 15-60 second clip could go so viral? That's TikTok for you! TikTok is a newer entrant to the American market that started as a platform where teens posted fun new dances or short clips of relatable content. What was once known as Musical.ly and mostly used by Gen Z, has now grown to be one of the most popular apps with over 800 million users worldwide. During this Pandemic, TikTok has expanded its user base across all ages and backgrounds. The app and website saw a 93% spike in Unique Visitors from October 2019 to March 2020, and similar growth in time spent. TikTok's audience is predominantly Gen Z, featuring 41% of users between 16-24 and 50% of users under 30. As such, it's a fantastic place to engage a new and younger audience.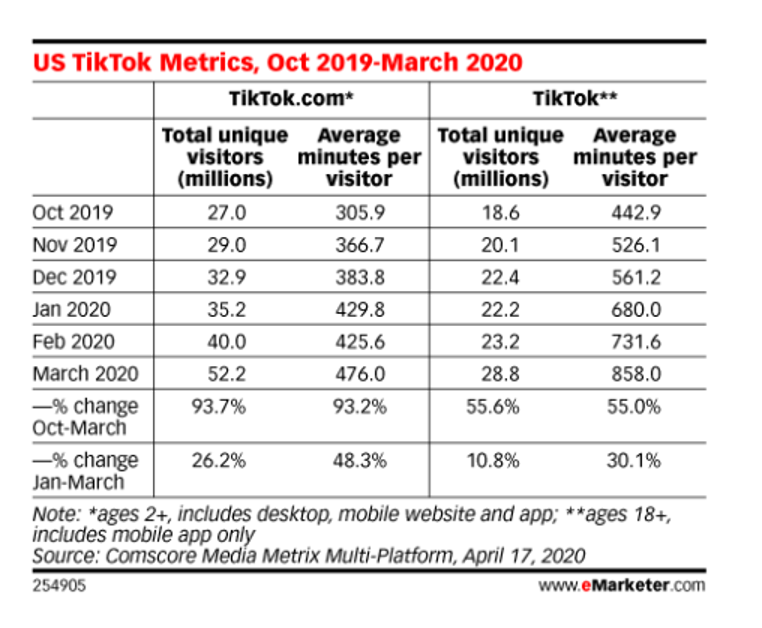 While TikTok is still viewed as an emerging channel, advertisers are taking advantage of the easy-to-consume content being watched by millions to promote products and services in unique, visually compelling ways. They just recently launched their self-serve advertising platform with many solutions still in Beta. Advertising opportunities include Brand takeovers, in-feed ads, and branded hashtag challenges. Paid advertising can be targeted by age, location and interest.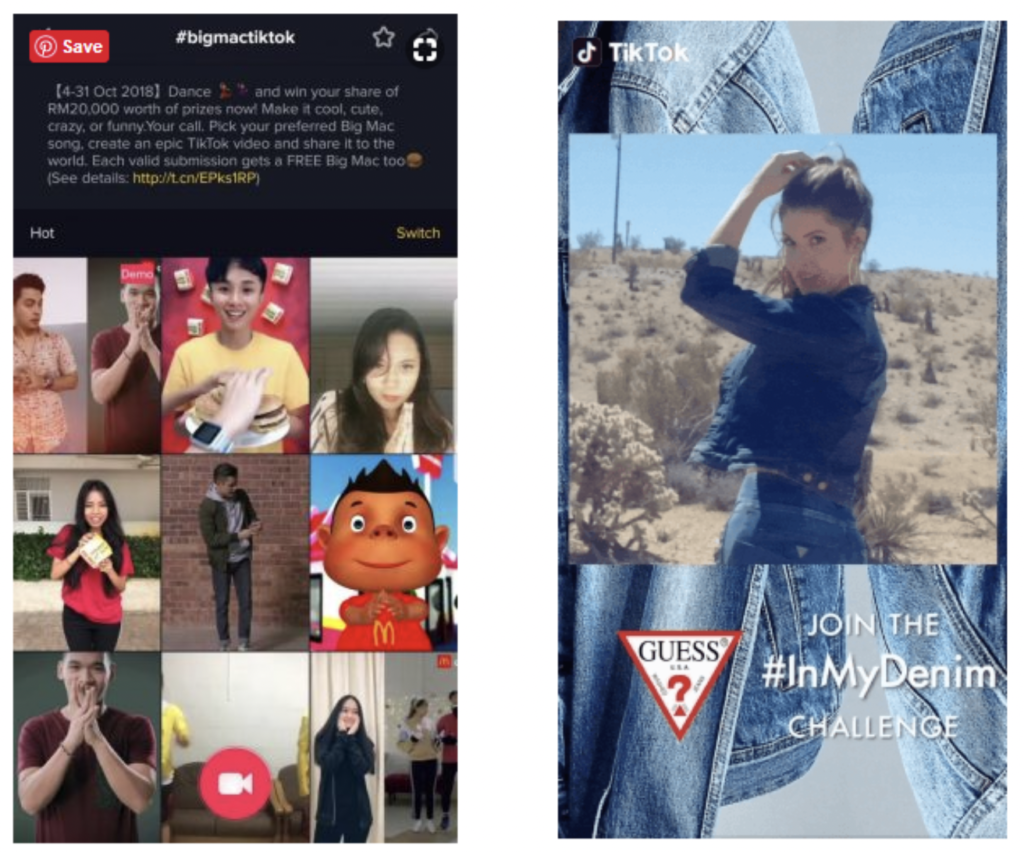 Snapchat:
Throughout the COVID-19 crisis, SnapChat has made a conscious effort to push the boundaries of technology, offering their users real-time news and information as well as a platform to authentically connect with each other. As friends and families are forced to social distance, they are leaning into Snapchat to connect virtually. Snapchat gained 11 million daily active users in the first quarter of 2020 – a 20% increase over last year. While Snapchat's key demographics are ages 13-29, with 62% of users ranging between 18-19, Snapchat has seen growth in parent and young professional audience segments during the COVID-19 timeframe.
"Snapchat Calling" capabilities rival Zoom, allowing up to 32 people in a live call. In March, they reported a 30% increase in usage across Chat, Calling and Snap Games (compared to the last week of January), and a 50% increase in geographic regions largely impacted by COVID. Not only is this platform perfect for a group chat, you can also utilize lenses and filters to augment reality during to spice up your calls.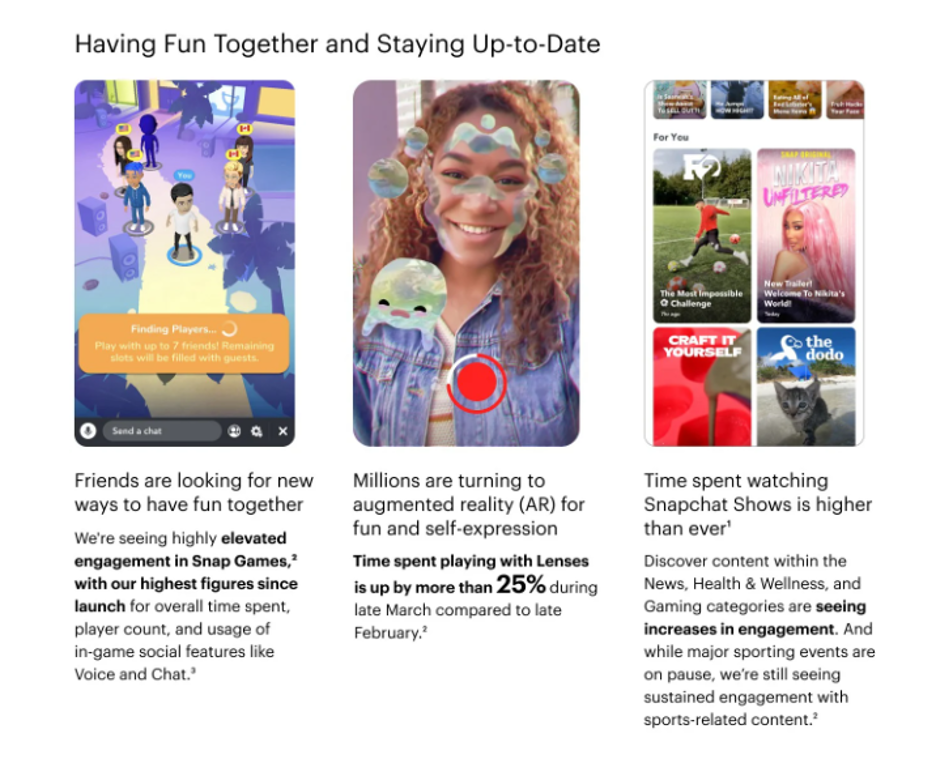 Source: Social Media Today
What does this mean for advertisers? Opportunity to reach an engaged audience.
Snapchat ads allow brands to connect to users with engaging, shareable, and interactive content. The app is known for their lenses and augmented reality filters to keep users engaged. Brands can take advantage of these environments by creating their own sponsored experiences. During COVID-19, Snapchat has reported not only large increases in user engagement across the board, but also on branded content:
75% of users engage with AR Lens Experience Daily
Swipe-up rates for Sponsored Lenses increased 22% in March compared to late February
Playtime with Sponsored Lenses increased by 18%
In addition to branded filters, Snapchat now offers a shoppable augmented reality feature which allows advertisers to sell products through lenses and filters by adding a button that directs users to the brands website to browse and purchase products. Upon launch, this feature was only available to large advertisers but now accessible to advertisers of all sizes.
Zoom:
Another way that people are connecting face-to-face is via Zoom, which has grown from 10 million to over 200 million users during this stay-at-home period. Zoom is being used across many enterprises for conferences, webinars and remote meetings to stay connected and keep business moving forward. Even though Zoom has been known for its business communication services, consumers and brands are turning to it as another way to communicate via video and audio.
Here are some easy ways to spice up your video calls:
Host a themed cocktail party. Even though we cannot travel right now, we can pretend we are by uploading a tropical beach background photo, making a fruity cocktail (don't forget the umbrella), putting on a Hawaiian shirt, and dreaming away. Pau Hana!
Remote trainings. Many companies, including Media+, have adjusted employee engagement and are using Zoom to host virtual trainings while working remotely. This has helped our employees tremendously by using video communication and screen share to onboard new team members.  Aside from trainings, we flock to Zoom for all agency meetings, happy hours, brainstorms, and client communication. Even though we are all working from our own homes, it helps to connect and keep our culture thriving by virtual "face-to-face" communication.
Coffee dates! As Seattleites, many of us drink several cups of coffee in the morning and walk to the nearest coffee stand in the afternoon for our  grande  quad shot lattes. But now we're stuck inside and can't – or can we? We can still have our coffee dates with coworkers; they just need to be virtual. It's a great way to stay in touch and check in with your co-workers, all from the comfort of your own home!
Virtual Picnic – Here at Media+, we have had many Picnics with our media vendors. We order lunch and we enjoy it together over a Zoom meeting. Not only does this keep everyone in touch, but it also helps out local restaurants by ordering delivery.
We urge you to lean in, embrace the digital world and connect with your audiences by utilizing the technology that is readily available. Consumers are craving new content, entertainment, and the ability to connect with the brands that they love. We leave you with a few more ideas to get the creative juices flowing:
Host a launch party or event. Consumers are craving new product information. Launch a product virtually! Create raw footage of the product utilizing your phone and launch the content across social environments where your consumers are spending a lot of time. Test new platforms like TikTok and Snapchat to reach a new audience or host a Zoom call to talk about your product and answers questions in real time.
Create a social contest. OOLA Distillery (a local distillery in Seattle on Capitol Hill) recently pushed out a live video contest urging their customers to create a fun cocktail video and submit it to win! How fun and engaging is this? Not only did this create amazing user-generated content but it gave their fans something fun and engaging to do and created multiple new cocktail recipes utilizing their products.
Give back to your customers by offering a virtual concert. We've seen many concerts and award shows canceled due to COVID-19 (Coachella, Stage Coach…boooo!) But that doesn't mean we can't enjoy music especially from the comfort of our homes. Virtual concerts have been blowing up across social media platforms and televised across networks. Artists from globally renowned to local are looking for ways to give back and connect with their fans. This would be a great way for a brand to build positive affinity by associating themselves with "a feel good for the community" by sponsoring a virtual concert.
As many of us follow the Stay-At-Home order due to this pandemic, we find ways to connect with our friends, family, and brands that we love through technology. While many things may be uncertain right now, Media+ remains a trusted and nimble resource to help you navigate these unprecedented times. There are lots of creative opportunities, and we would love to help you brainstorm ways to stay top of mind to your consumers.