By: Katrina Stroh, Media Director | March 17th, 2020
As you are aware, COVID-19 is having a massive impact on our society. Between school closures, mandated work from home policies to banning all major events, it would be an understatement to say daily lifestyles are being turned upside down. Every person is required to reprioritize how they eat, shop, work and entertain themselves.
Obviously, being in the advertising business, our clients turn to us for guidance on how they should navigate the media world and where they should be deploying dollars that will benefit them most. This recent spin on life has certainly created a whole new reality for most consumers. Therefore, we break down some of the biggest trends in an effort to bring clarity around consumer behavior and media consumption and how it's impacting the marketing landscape.
Consumer Behavior Changes
Comparing spending in China during the height of COVID-19, according to a Wavemaker survey in China, 68% of consumers said they did not cut back spending in light of COVID-19, however there were distinct shifts in how they spent and what it was spent on.
Global advisory against non-essential travel

Outbreaks on cruise ships, travel bans and general guidance to avoid non-essential travel has completely crippled the travel industry (cruise lines, airlines, hotels, etc.) This industry is most definitely seeing the largest impact.

Consumers cut back on entertainment and leisure

Recent government mandated closures of entertainment venues, concerts, large gatherings, bars/restaurants are sure to hit these categories very hard. Many restaurants are scrambling to reinvent themselves by offering take-out/delivery services.

Reprioritization of spending, results in reduction in retail

With the renewed sense of health and "back to basics" mentality, brick & mortar retail takes a back seat to the necessities of day to day life. However, as seen in South Korea and China, online retailers saw huge gains as consumers shift buying habits online. This could be an opportunity for retailers to focus marketing efforts on ecommerce.

Meanwhile, contrary to most categories, grocery and food delivery explode

Consumers dependence on items needed for the home (Food/Health/HH items) result in consumers flooding grocers/drugstores/big box retailers. Meanwhile, Amazon grocery delivery system overloaded across the country as they struggle to keep up with demand.
Media Consumption Trends
As with the changes in purchase behavior the media industry has also seen major influences from social distancing, closures of many local businesses, cancellation of nearly ALL major sporting events, and overall reduction in commuting hours. With more time at home, people are finding new ways to entertain themselves resulting in a surge in media usage at home. According to Nielsen, staying put in our homes can lead to upwards of a 60% increase in the amount of content we watch in some cases.
News is KING

As seen across nearly every medium, news consumption has increased as people seek real-time information on what's happening around them.

Online News: Seattle Times daily web traffic has tripled over the past few weeks
TV News: All news dayparts have seen increases (outside of morning news)

TV sees sizable increases across nearly every daypart

As consumers hunker down at-home they are clearly turning to their TV's. In comparing year over year TV ratings for A25-54 in the Seattle DMA (Mar'19 vs Mar'20), there is a 28% increase in average ratings. In looking at month over month ratings in the Seattle DMA (Feb'20 vs Mar'20), we are seeing significant jumps across nearly every daypart. Morning programming sees the only decline as a result of people waking up later and staying up later.

Biggest gains seen in prime and late evening, with second highest in daytime and early evening.
Meanwhile, TV's losses could potentially outweigh its gains overtime as sports cancellations eliminate major rated event viewing. With NBA and March Madness cancellations at the forefront, major broadcast and cable sports networks scramble to fill airtime with re-runs and news programming. Much of this sports programming was set to run during prime dayparts, with major ad demand and premium pricing attached. OTT threatens to steal some of this viewership as consumers seek new options to fill a void.
OTT (Streaming Video) likely to see uptick as consumers seek escape from News and shift sports viewing elsewhere

According to eMarketer, digital video platforms such as Netflix, Hulu, Amazon Prime Video are all expected to mirror the increases seen in TV perhaps even spurring increase in new memberships as consumers look for new entertainment sources to fill their newfound leisure time.

Radio & Outdoor take a hit with the lack of commuters

Seattle is seeing major declines in daily traffic patterns due to workplaces transition to work from home policies. Below are photos from the WSDOT of peak morning commute on Thursday, March 12, showing stark contrast between the standard bumper to bumper traffic (Left: Middle of downtown Seattle, Right: I-405 in Bothell.)
According to Nielsen's Audio Today 2019 Report, 69% of radio listening occurs away from home, with majority of that time spent listening in-car (66%), it's not a wonder with much of the Nation working from home that Radio is seeing steep declines in listenership. While time spent listening at home could also be seeing increases, there is no data to verify this at this time.

Streaming Audio likely to see steady listenership

Streaming audio is significantly less impacted by commute patterns as it only contributes about 5% of the time spent listening in-car (Source: Edison Share of Ear Study Q2 2016). In addition, streaming is more likely to happen at-home or in leisure environments when smartphones or devices are present, therefore lending well to a shift toward working from home.

Social media enables social connection in a social distanced world

It is no surprise that social media time increases as people try to stay connected with their community and network while confined to their homes. It seems newsfeeds are flooded with COVID-19 content as social media helps to bring conversation and solidarity around the changing environment and stifling news headlines.
While Facebook, Instagram, Snapchat and Twitter all benefit from additional time spent from the broader adult demographic, Emarketer predicts younger skewing social entertainment channels are likely to see an uplift with kids and teens out of school looking for more in-home entertainment options. Channels like YouTube, Disney+, TikTok, Twitch and Fortnite.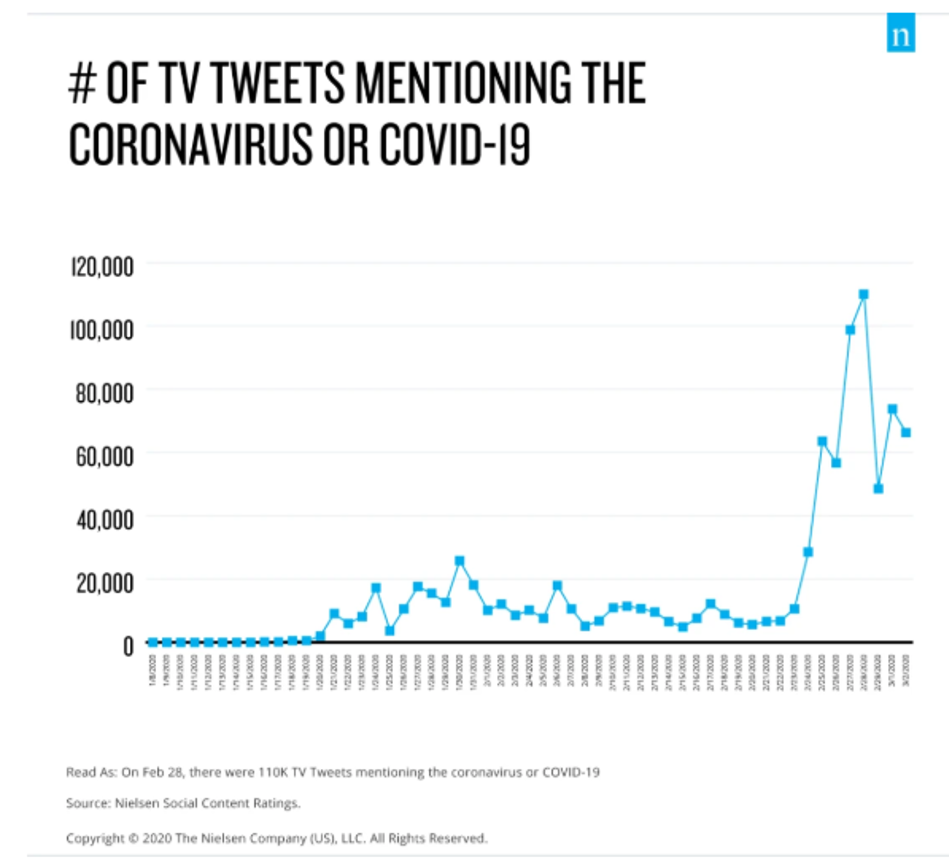 We have been having to rethink a lot of strategies over the past week based on the recent crisis that's being especially felt here in the PNW, but the chain reaction is likely to translate in other states and cities as time continues.
As brands are faced with decisions on how to market during this time of turmoil, Media+ hopes to be a source for how to best approach your business through a media lens in order to maximize media investment and limit waste, while being mindful of the current consumer sentiment. We will be releasing a series of blog posts over coming weeks to continue to keep you informed on the impact surrounding the media and advertising industry. Stay tuned!
---
Sources: https://www.warc.com/newsandopinion/opinion/covid-19-three-scenarios-for-the-impact-on-media-planning/3448;https://www.nielsen.com/us/en/insights/article/2020/key-consumer-behavior-thresholds-identified-as-the-coronavirus-outbreak-evolves/; https://www.emarketer.com/content/the-biggest-business-impacts-of-the-coronavirus-pandemic-according-to-business-insider-intelligence; https://www.nielsen.com/wp-content/uploads/sites/3/2019/06/audio-today-2019.pdf;https://www.nielsen.com/us/en/insights/article/2020/staying-put-consumers-forced-indoors-during-crisis-spend-more-time-on-media/