By: Rob Griffin, Analytics Lead | July 9, 2019
Have you ever wondered how your mobile device is being used to provide advertisers real-time location data? Our lead analyst, Rob Griffin, breaks down the different data sources, benefits of each and best use cases based on the goals of your campaign.
With mobile devices being "always on" and "always with us", along with the ability to determine a user's exact location, mobile is leading the charge in enabling marketers to reach the right audience at the right time.
Below are some different ways to utilize mobile data for ad campaigns:
Proximity: Target users within your store trade area to limit waste and drive top of mind proximity awareness (ie: 10 miles)
Conquesting: Target audience segments based on real-time and past visitation of competitor locations (ie: pizza joints)
Neighborhoods: Target specific neighborhoods that portray specific audience characteristics (ie: race, income, etc.)
Lapsed/Past Customers: Reach past visitors that visited during a major season to bring them back in (ie: holiday shoppers)
One of the biggest challenges in incorporating location-based advertising is understanding that not all data sources are created equal. For example, did you know that Beacons are the only data collection method that can accurately determine your specific location within a store? Below is breakdown on how different mobile publishers collect their data and the benefits and limitations associated with each.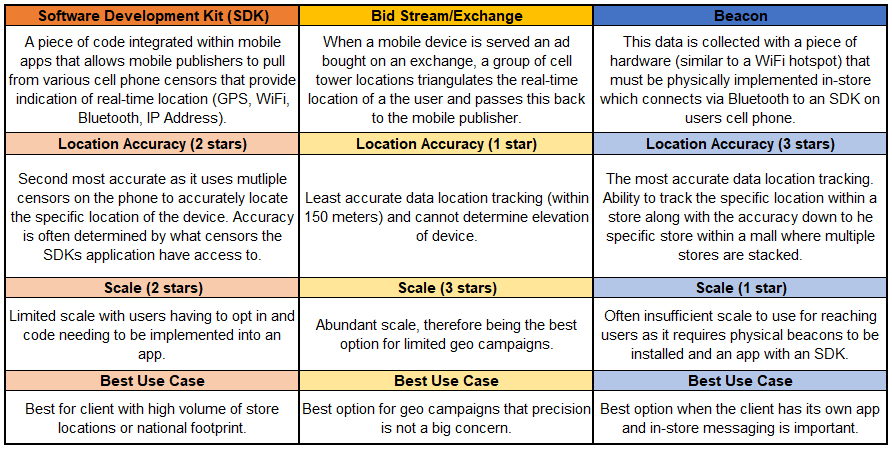 Each technology has their own strengths and weaknesses and there is no one-size fits all. Bid stream data is typically better for scale while SDK and Beacon are better for accuracy. In order to balance accuracy and scale, vendors are now starting to blend multiple data sources using machine learning from the SDK and Beacon data and applying it to bid stream data. All three sources work together well to best identify and target audience segments.
The mobile space is constantly changing and evolving, therefore to in order to be diligent, be sure to ask questions! Where does your data come from? What is the mix of this data? Has your location data been accredited or scored by a third party?
If all of this is totally over your head, it's okay, that's why our clients hire us to do it for them!
Mobile data is also used for measuring the effectiveness of ads to drive foot traffic. Stay tuned for a post about mobile measurement and attribution!